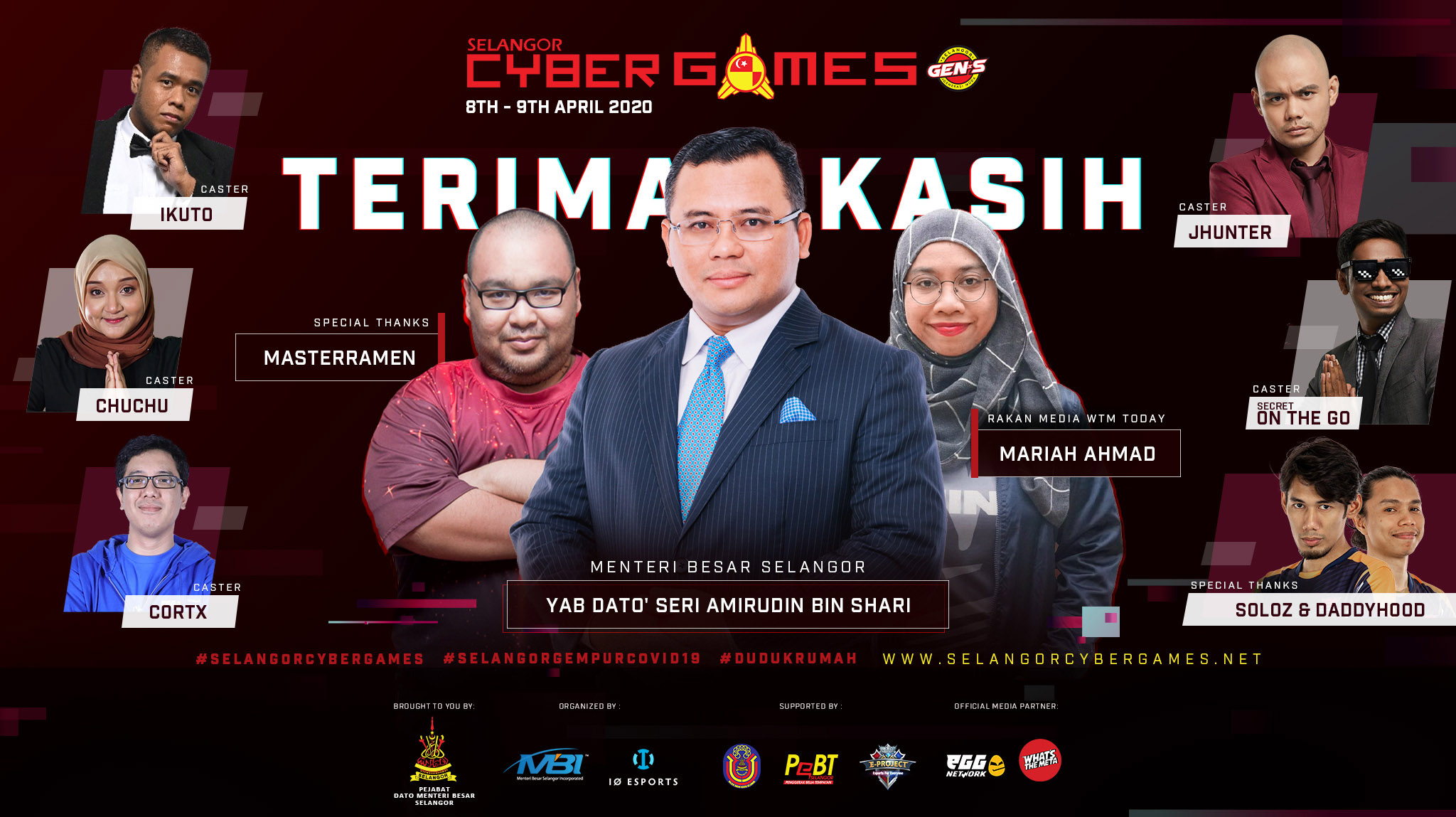 SHAH ALAM, 10 April 2020 - ​As the Movement Control Order (MCO) is currently taking place in Malaysia, the Selangor government and Chief Minister Office of Selangor has organized an esports tournament called the Selangor Cyber Games 2020 (SCG 2020) - Piala Duduk Rumah which takes place online from 8 - 9 April 2020 in collaboration with IO Esports.

SCG 2020 announced a prize pool of RM 40,000 prize pool between two esports titles including Mobile Legends: Bang Bang and PUBG Mobile where the prize pool is divided equally where both games offered RM 20,000 of prizes respectively. There is also a minimal amount of RM10 entry fee paid by the registering teams which will be channeled to the COVID-19 fund for the needy and will be handled by the Selangor government.

During the announcement of SCG 2020, the Chief Minister, YAB Dato' Seri Amirudin Bin Shari mentioned that "One of the elements that we can explore when we are resting at homes are video games Selangor Cyber Games is organized online therefore the people can play from their homes, offices or at their location". He also mentioned that the tournament could host up to 4,608 players in total.

As the SCG 2020 took place, the tournament is broadcasted live on Facebook Live for both games by IO Esports. At the same time, IO Esports has collected extra funds for the COVID-19 Fund where audiences donated via the Facebook Stars feature. At the end of the tournament, IO Esports has managed to collect up to 622,844 which brings the value of RM 27,000, bringing to total amount of donation to RM 36,488.

Selangor Cyber Games 2020 is currently the seventh edition of the annual cyber games tournament since the first edition at 2014 with the hopes to explore the talents of the younger generation in the esports scene. Currently, the cyber games industry has been blooming and are being widely accepted. Therefore, the Selangor government took the initiative to prepare a platform where the younger generation of Malaysia where they would not be missing out on their chance to make Malaysia and Selangor proud on the global stage.